Feedback
Theory vs. Practice
Diagnosis is not the end, but the beginning of practice. Martin H. Fischer
What The IoT And AI Have In Common?
The IoT (Internet of Things) and AI (Artificial Intelligence) will be cataclysmic failures if, because of the lack of any effective and durable security, anyone can remotely interfere with, infiltrate and sabotage any device and communication, everywhere, at any time:
As a Defense contractor, Lockheed-Martin certainly knows about security, but The Economist's point of view is even more revealing:
How the better-funded-than-anyone US Defense contractors, US tech and US Cyber-security firms can have led to a "market failure"?
Let's quote the Chinese academics who broke Inmarsat Satellite Phones in real-time with a simple PC:
"Using the proposed attack, the 264 size of the key space can be reduced to approximately 213 when a single-frame keystream is available. On a 3.3-GHz PC the 64-bit encryption-key was recovered in approximately 0.02 second on average."
Weak encryption standards and backdoors could be exploited by others than GCHQ and NSA.
In the modern age we all need to have complete trust in the basic infrastructure that we all use.
Prof. Paterson, Ryan, Sassone, Schneider, Smart and Dr. Boiten, Danezis, Groth and Hao
Adam Smith Revisited: The "Hidden Fist of the Market"
---
Over the three past decades, thousands of independent tech companies (US and foreign), and hundreds of thousands of families, have lost everything because they have faced the unfair competition of some arbitrarily-chosen State-protected IT players.
How is this done?
On one hand, a few dominant players are continuously (and illegally) funded to dwarf less "trusted" (close to power) competitors:
Hint: in 2005-2008, Edward Snowden worked at the University of Maryland's Center for Advanced Study of Language sponsored by the National Security Agency (NSA) and at the global communications division at CIA headquarters in Langley, Virginia. In 2007, Snowden was stationed with diplomatic cover at the US mission to the United Nations in Geneva, Switzerland. In 2009, Snowden resigned from the CIA to join DELL which then sent him to Hawaii to work for the NSA's information-sharing office and he was then employed with the Booz Allen Hamilton consulting firm.
On another hand, the US (and Western) Intelligence Agencies rely on the secret backdoors of their US tech partners:
What about boring devices like printers and copiers?
What about the smart-TV in your office, living-room, or bedroom?
What about your car? (nearly all of them were already collecting data in 2006)
What about your smartphone? (carried by all 24/365, from bedroom to work and holidays)
What about heavily-promoted payment systems "disrupting Finance"?
Why is this done?
Foreign Policy historian Robert Kagan says that our critical infrastructure Computers & smartphones, connected cars,
pacemakers & insulin pumps, electronic votes
and signatures, bank accounts & credit-cards,
biometric passports and databases, routers and
firewalls, VoIP phones, and the whole Internet.
is militarized to... "win on the [economic] battlefield":
Burying "free and open markets", "fair competition", and the "rule of law" has certainly generated unprecedented profits and global market shares for a very few State-protected players. But it also came at an unprecedented cost for the ecosystem, including in the USA:
Who they are is not a matter of speculation: they quickly became the world's largest listed firms – and keep growing fast.
Their achievement is simple to summarize. Our common critical infrastructure can be spied, sabotaged (or forged) at will:
• energy grid/pipelines, plants, water supply, smart-cities,
• telecoms, DNA/biometric IDs, e-votes & e-signatures,
• insulin pumps, pacemakers, medical prescriptions,
• logistics, transportation, database records, e-tickets,
• finance, e-contracts, cashless wallets, video surveillance,
• government & Defense, Homeland Security, etc.
And the industry players in charge of protecting us are now the cause of the problem, thanks to their passion for backdoors.
Intel is #36 on the Market Cap list, showing how much the champions above are more related to today's political & economic goals.
Unsurprisingly, three market an operating system & Web browser – the backdoors of all PCs, Macs, tablets, smartphones, and cars.
Bug-free large software programs are difficult to write – but that's not the point. If you look at Microsoft Windows, the same vulnerabilities are found for almost 3 decades, like image parsing critical security holes... granting full access to the operating system (OS) kernel.
The merit of this ecosystem is to have kept the backdoor era secret for decades (in exchange for recurring investments and Defense contracts). But, by doing so, they have mercilessly eradicated competition and enjoyed a comfort-zone that killed innovation:
How do you protect what you want to exploit?
Scott Charney, VP Trustworthy Computing, Microsoft
Is this still a secret today?
Is this offensive capacity in use?
As backdoors are the only way to "plant Cyber weapons in [a foreign nation's] infrastructure", Westerners are equally vulnerable.
---
The NSA, to prevent a Cyber Pearl Harbor or a Digital 9/11 from happening in the US, wants to replace the now publicly-known and too widely misused backdoors (for which "most of the expertise and the innovation is in the [US] private sector side") with an unbreakable frontdoor that only each country's Intelligence Agencies could use domestically. This is a major progress as criminals and foreign powers will no longer be able to exploit the US tech vendor backdoors to attack the world's common critical infrastructure.
---
Tech vendors are not enthusiastic for the policy change: ditching backdoors means much less investments and revenues from Intelligence Agencies and Pentagon, much less infiltrated systems to collect data (the "new Oil" according to The Economist), and much less sabotaging powers (either for sale or for defeating competitors). The change also implies a (long-awaited) reversal of the US policies to negate today's incentives for planting backdoors, such as an exposure to new eye-wateringly expensive liabilities.
---
Tech vendors also indirectly benefit from today's "Cyber-security market failure": end-users facing uncontrollable risks – and now regulated fines(!) for corporate security breaches caused by US backdoors – have no choice but to subscribe to the... Cloud (where all your data, customer lists, bank accounts, and know-how are stored at the disposal of the US tech vendors and US intelligence agencies to pursue their official common goal which is, quoting them again: "winning on the battlefield"):
A similar "pro-Cloud" shaping policy was deployed a couple of decades ago when the US declared war against efficiency: publishing increasingly less-performing, pointlessly complex and buggy operating systems, inferior by-design programming languages, and ever-growing applications made it far more costly for end-users to maintain their own infrastructure.
Universities teach "Computer Science" with US commercial products such as Java (from Oracle) and C# (from Microsoft)... instead of teaching C used to make Microsoft Windows, Oracle Solaris and Linux – as well as Java and C# in the first place. (Java and C# are inferior languages because Java and C#, large collections of C libraries, cannot be written in Java or C# while everything – including C compilers – can be efficiently and concisely written in C, a free 45-year old portable language made of 37 keywords)
They replace engineering skills by consumer skills, "Science" by "Marketing", "Knowledge" by "Ignorance" – and while Academia proudly calls history-rewriting the "unstoppable march of progress", engineers are reduced into end-users buying the backdoored black-boxes that they have learned using at school.
Explaining that Risk = Threats x Vulnerabilities x Consequences General Hayden said Consequences (costs) can be reduced with backup/restore procedures to limit the impact of Threats (political dissent, criminals) so the Vulnerabilities (State-sponsored backdoors) could still be deployed for the sake of "theft and destruction" (his words) to conquer the remaining "Land, Sea, Air, Space and Cyber domains" (sic) not already annexed by the US (see "Cyber Security: Why Is This (Still) So Hard?", 2016).
To further strengthen the scale of the opportunity for the US, General Hayden compared Cyber to the "European discovery of America" where natives were deprived from their land (and 20+ millions from their life) by European colonies, resulting in "the land of the free".
This is why the idea of a frontdoor promoting nation-State sovereignty, peace, and mutual trust fostering transnational commerce and exchanges, is not pleasing everybody... despite ever-growing worldwide Cyber-attacks exploiting the backdoors "made in America".
Problems worthy of attacks, prove their worth by hitting back.
Adam Smith, Scottish economist (1723-1790)
What Is The Damage Of The "US-ONLY" Policies? (No Pun Intended)
---
In 2009, TWD Industries AG (founded in 1998) created Global-WAN using TWD's 2007 "post-quantum" security (that the best universities of the world and the largest defense contractors claim they still cannot find despite 70 years of publicly-funded R&D):
What satellites, video-surveillance, or remote sensors are worth if data can be modified on-the-fly before reaching their owners? Once hijacked, who do you think your armed drones or missiles will target? As with US Patriot missiles made by Raytheon (US Defense contractor), have been remotely hacked, this is not mere theory.
Why is this made possible in the first place? Because no provably-unbreakable security is deployed – either for civilian or military products – for the sake of being able to remotely sabotage systems (so customers can't use US technologies against US interests).

Here also, on the top of being immensely more profitable for end-users and infrastructure operators an unbreakable frontdoor would resolve the global recurring problems caused by today's backdoors.
WhatsApp, Skype (and all the media-promoted) Chat/VoIP platforms do not provide "unbreakable encryption": they all rely on today's US standards (AES, RSA, DH, ECC, etc.) which are provably-UNSAFE (hence the previously discussed PQCrypto public/private R&D project aimed at "filling the security gaps of today's obsolete standards", satisfying The Economist's "higher standards" request):
Actually, PQCRYPTO algorithms are much slower than the standards they aim to replace. That's even the reason behind their logo. This is a turtle, these Academics claim, because "Post-Quantum security is much more complicated and therefore much slower".
These PQCRYPTO by-design defects (high memory and CPU usage) are a major issue for the IoT because low-consumption devices can't run slow algorithms in real-time (and with non-scalable crypto, datacenters can't cope with concurrency loads). Things are even worse on ASIC chips Application Specific Integrated Circuits (ASICs)

Unlike CPUs which can run any program, ASICs are designed only
for a specific task (and are therefore more compact).

ASICs use less energy and are much cheaper, faster and safer as
their functions cannot be accessed nor altered by users (ASICs are
often drafted on more expensive, less efficient and reprogrammable
FPGAs that rely on a similar design).

ASIC-based solutions cannot evolve with security threats and
security standards, and therefore usually have a limited lifespan.

Using provably-safe encryption removes these inconvenients since
such a solution will never become obsolete. where RAM is scarce and energy-hungry.
TWD's crypto is much faster and scalable than PQCRYPTO's (and even faster than today's obsolete US standards). On the top of being mathematically-proven as unbreakable, TWD's crypto, unlike PQCRYPTO's, also makes it possible to deploy an universal frontdoor (from RFID chips to datacenters) to replace and even disable the existing backdoors exploited by criminals and foreign spies.
So, with all these good financial and technical reasons to ditch backdoors like PQCRYPTO, why is TWD's 2007 frontdoor based on provably-safe encryption still dismissed despite the highest-ranking EU and US officials asking for such a technology to surface?
Since 2007, TWD has talked to the ENISA (European Union Agency for Network and Information Security), and presented it's provably-unbreakable frontdoor to many EU and national officials, Defense contractors, and industry leaders worldwide... not omitting the fact that Global-WAN's frontdoor is immensely more profitable for end-users and infrastructure operators.
Yet, the IoT and AI (Artificial Intelligence) will be cataclysmic failures if, because of the lack of any effective and durable security, anyone can remotely interfere with, infiltrate and sabotage any device and communication, everywhere, at any time:
Lockheed-Martin, an US corporation, is officially the world's largest Defense contractor, but...
Market capitalizations reflect Eric Schmidt's statement: Lockheed Martin is worth 8 times less than Alphabet (Google's holding). This is not surprising since "Google started with CIA and NSA research grants for mass citizen surveillance and tracking".
How much weight has "world peace and economic growth" as compared to "private historic profits extracted from worldwide chaos"?
Not much when listed companies are in charge of the world's most important decisions and have more weight than the FBI and NSA.
The problem is simple: the Foreign Policy historian Robert Kagan's "hidden fist" went too far.
TWD's Global-WAN ASIC microchips can provably-secure the world forever at a fraction of the price of today's governmental, academic, and industrial (ever-failing) "security theater"... but Google's CEO made it clear that Google, Amazon, Apple, Microsoft, Facebook, and the like all belong to the US military-industrial complex.
This is why independent vendors, like TWD, whatever their location, innovations, "talent" and "persistence" don't have the slightest chance in today's Western ecosystem. Not part of the problem, they can't either be part of the solution:
1. Create the problem, ("Cyber-security" decades-long investments called a "market failure" by The Economist)
2. Allow chaos to ensue, (backdoored security naturally leads to increasing disasters – amply reported by the media)
3. Offer a planned-obsolescent solution. (PQCRYPTO's backdoored security generously paid with public money is imposed)

Beyond nullifying competition, what other detrimental effects does this vicious cycle have on the World? Let's see.
Why the Defense contractors, Academia, and Silicon Valley want to preserve the vulnerability of our common critical infrastructure?
To foster chaos & warfare: Defense contractors make money by selling eye-wateringly expensive stuff to the military.
The closer to war the world is, the higher Defense budgets are (and so is national debt, making finance even more influent).
Ubiquitous backdoors have this magic effect of promoting the world to a state of constant war and chaos.
War is the parent of armies; from these proceed debts and taxes... known instruments for bringing the many under the domination of the few... No nation could preserve its freedom in the midst of continual warfare. James Madison, Jr. (1751-1836), 4th President of the United States (1809-17)
High government budgets turn into high corporate revenues which fuel (and justify) lobbyism – to keep the same music playing.
"He who pays the piper calls the tune" (only the one paying the musicians can choose the song).
The want of parsimony, in time of peace, imposes the necessity of contracting debt in time of war.
Adam Smith, Scottish economist (1723-1790)
How the US "Trusted" Tech Vendors are Selected?
---
Any group enjoying much larger powers than everybody else will eventually use it for its private interest. This obviously becomes unmanageable when these capabilities involve State powers because the State has then long ceased serving the "Common Good".
All this has happened a long time ago in Western countries: some US publicly traded companies are richer than the cumulated wealth of most nations (thanks to public money managed by private companies – including investment & pension funds – pouring people savings into the hands of a very few entrepreneurs celebrated as "geniuses" to justify their lavish lifestyle, extraordinary valuations, tax exemptions, subsides, public contracts, license to break the rules that all others have to respect, and huge losses immediately offset by new investments).
Even The Economist (with Google at its board) did not mince its words: (picture courtesy of The Economist)
So Apple, Amazon, Facebook, Google and Microsoft (the only veteran still in the game) do even better than the "silicon pioneers".
How profitable was this game exactly?
Public-relation (PR) firms publishing sponsored posts prefer to refer to this process as the "deserved reward" of "merit" and "talent". Finance sometimes discretely invokes "Financial Darwinism": an "unnatural selection" done by massively transferring public money to a very few, hereby depriving all others from all possible investments, business deals, and jobs – the perfect self-empowering system.
Economists know very well what the consequences are:
a very few are financed – at the expense of all others;

(deprived from capital, firms can't hire staff and make products)

the very few dominate the market with low-quality offers;

(constant royal funding leads to abuse and self-complacentry)

workers lack jobs because most firms lack customers;

(chronically under-capitalized, they can't merely keep existing)

most firms lack customers because workers lack jobs;

(lifestyle is long gone, most fight to pay tax/energy/housing bills)

the few celebrate victory while the economy goes belly-up.

(when many go bankrupt, real-estate assets are a bargain)
At least it now clear where The Economist's "Cyber-security market failure" and the accelerating concentration of wealth come from.
In all the different employments of stock, the ordinary rate of profit varies more or less with the certainty or uncertainty of the returns. Adam Smith, Scottish economist (1723-1790)
Another classic economist tells us where the Central Bank QE policies are leading:
Given the distortions in monetary policy in the US, Europe and Japan since the acute phase of the 2008 financial crisis, Johan Wicksell [a Swedish economist, 1851-1926]'s insights are relevant for those seeking to understand how this economic cycle ends and the investment consequences which flow from the denouement.

For Wicksell, the "natural rate of interest" was the rate that causes savings and investment to broadly balance. It corresponds over the long term to an "equilibrium level", like the purchasing power parity exchange rate between two currencies. His other key measure was the "market rate of interest" which corresponds to companies' long term borrowing cost.

As Wicksell saw it, economic cycles tend to be driven by the spread between these two fundamental rates of interest. When the market rate is too low compared to the natural rate, the cost of capital is too cheap. The result will be capital misallocation, leading eventually to a decline in the economy's structural growth rate. In contrast, when the market rate is too high compared with the natural rate, capital is too expensive and an economy cannot grow. The result will be a bust, especially if overall indebtedness has risen sharply.
"Stagnation or Bust?", Charles Gave
Is There Any Available Effective Solution?
---
All this illustrates how Western finance and military's selective perpetual funding, pressure on both the Internet ecosystem and the "rule of law", make it impossible for technically superior challengers to surface – or to merely survive – even in the US:
Twenty years ago, 600 companies were listed every year in the US (74 were listed in 2016). In two decades, the total number of listed US companies felt from 8,000 to less than 4,000. The FED's QE trillions have led into much less competition, not more.
China might insist to have a life of its own: it is often criticized by Westerners for its "unfair State-support for the Chinese industry". Since 2004, European Airbus has received the same accusation from Boeing and the US government. Copying the so-successful US business-model is certainly a major offense: treachery works best when you are the only one allowed to cheat.
As the largest world data collectors, Google, Amazon, Apple, Facebook, Microsoft, Uber, Airbnb, Tesla, eBay, etc. are the Western intelligences agencies' "symbiotic creatures" in an ecosystem where "Information is Power" (used to identify and terminate potential challengers before they can grow). No wonder why these Internet businesses are funded and protected like nothing else on Earth.
At this stage, the only remaining important question is: can today's Silicon Sultans' business-model be disrupted, let's say, for example, by making frontdoors immensely more profitable for end-users and infrastructure operators?
Want to stay connected and nevertheless be safe – and at the same time generate huge recurring revenues?
Global-WAN provably-safe IDs and security shuts the door to all attacks, even the DDoS which have caused Internet blackouts for the six US largest banks, and the NYSE & NASDAQ in Sept. 2012.
Help us to manufacture plug & play Global-WAN ASIC chips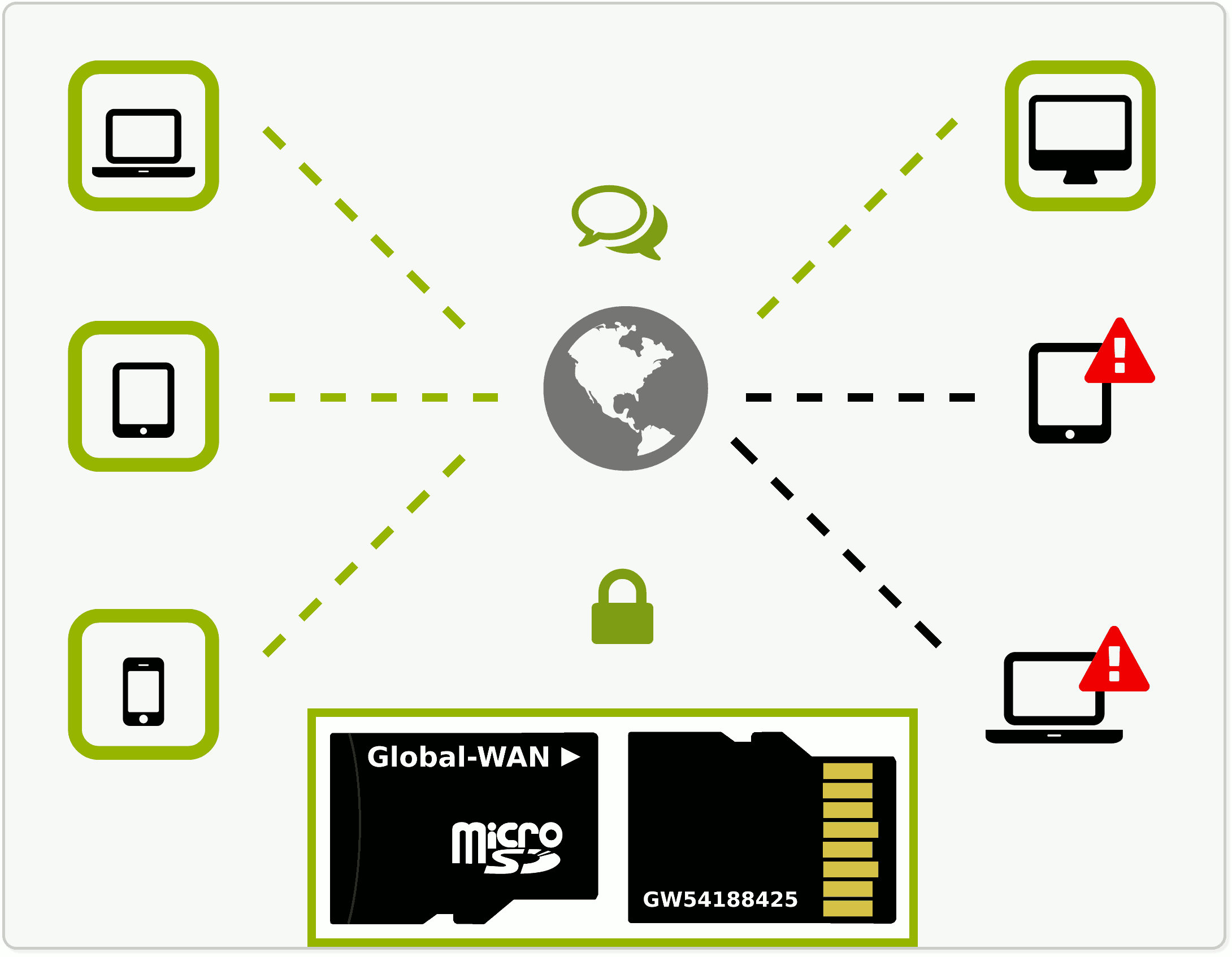 (for RFID tags, network cards, radios and modems)!
This will make it possible to deploy Global-WAN in your organization or even country-wide at ridiculously low costs (a few cents per unit!) and will let you sell your data at the price that you find appropriate – if you want to do so (data that can be stolen is free).
Large players such as multinational companies or government bodies can even license Global-WAN source code and deploy their own isolated version, which, in turn, can be bridged with your neighbors' regional Global-WAN, each side creating its own access permissions, without room for unwanted interference.
If there is any society among robbers and murderers, they must at least... abstain from robbing and murdering
one another. So beneficence is less essential than justice is to the existence of society; a lack of beneficence
will make a society uncomfortable, but the prevalence of injustice will utterly destroy it.
Adam Smith, Scottish economist (1723-1790)
---
Adam Smith was a Scottish economist, philosopher, and author. He was a moral philosopher, a pioneer of political economy, and was a key figure during the Scottish Enlightenment era. He is best known for two classic works: "The Theory of Moral Sentiments" (1759), and "An Inquiry into the Nature and Causes of the Wealth of Nations" (1776). The latter, usually abbreviated as "The Wealth of Nations", is considered his magnum opus and the first modern work of economics.

Smith's "invisible hand" states that, when individuals pursue their self-interest under conditions of justice ("free markets" and "fair competition" enforced by the "rule of law"), they unintentionally promote the "Common Good" (low prices, innovation, and diversity).
Adam Smith warned that a business-dominated political system would conspire against consumers and turn the economy into industrial monopolies and the politics into an oligopoly influencing legislation – in which case the "invisible hand" could no longer exist.